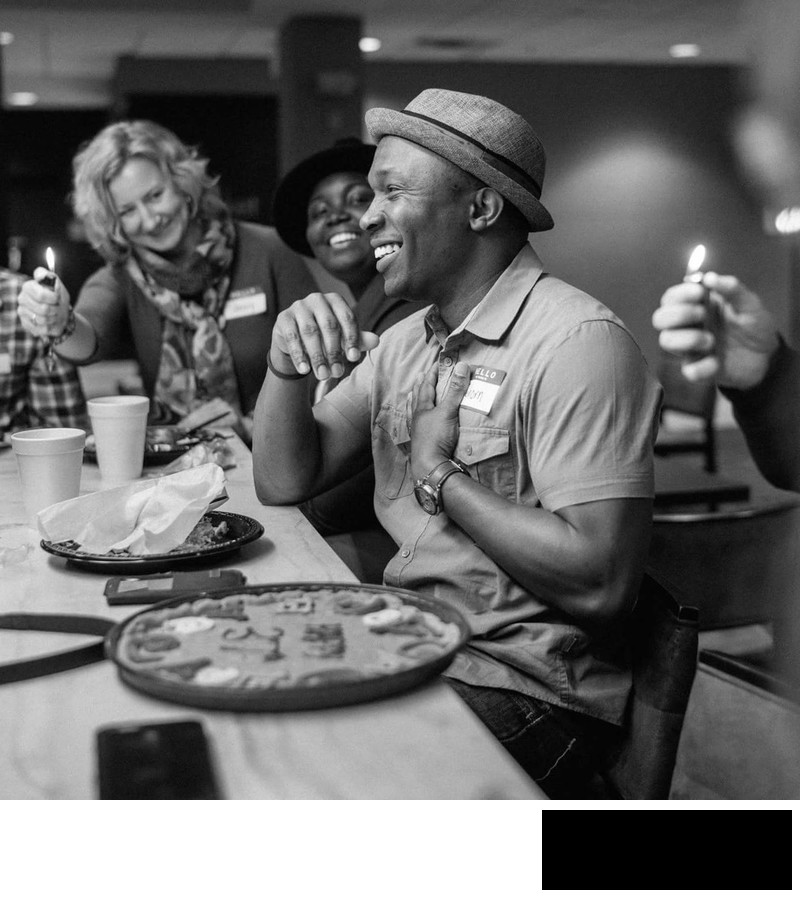 Instead of boring you with stories that has no bearing on who I really am, I have before you a fun Q & A :-)
Q. What's the most exciting thing you've ever experienced?
A. Well as of March of 2017 my wife of 11 years and I will be expecting our first child in November. I'm pretty excited and can't wait to experience fatherhood. My son will have two parents that love him very much. I'm now more focused that ever on providing excellent service and images/videos that resonate with my clients so my child can be well taken care of.
Q. Why do you think moments matter?
A. I know what it's like to not have amazing wedding photos and missed moments. I want you to have what I didn't get on my wedding day. 9 years later and I'm still feeling the loss. No worries, year 10 I'll do it the right way.
Q. Where were you born?
A. Beautiful island of Antigua where we have at least 365 different beaches. Did you say destination wedding to Antigua? Let's make it happen. I have friends in high places :-)
Q. What do you enjoy most about this business?
A. To be honest, I have the best clients. They want me to succeed and they support my ambitions to be an amazing photographer. I'm always humbled by the stories they share and the advice we give each other. I screen my clients very close to make sure we are the best fit for each other. I want them to have a great experience with me and I want to also make sure I enjoy their company. I'm big on relationships.
Q. Did you plan on being a photographer?
A. Not at all. It happened on accident. My goal was to be a licensed Architect since I have an Architectural degree. However I know I've found my true passion.
Q. What's your greatest personal accomplishment to date?
A. Marrying an amazing woman who I can say is my soul mate. Marrying her may have been better than winning the lottery. I may play it one day and win to see which was more makes me feel better. My wife is one of those women who lights up a room with her smile, poise and her humility.
Q. What inspires you to capture love stories?

A. When my wife and I were engaged I remember the long hours we worked to save money. We sacrificed a lot so that we could afford a quality wedding photographer. What we thought were diamonds ended up being a bag of broken glass. If we could get burned it will happen to other couples. I am a champion for making sure couples do not get shafted on their big day. I have a major chip on my shoulder so I'm inspired each weekend to capture the best love story being told that day.
Q. What are three things people don't realize about what you do?
A. (1) After the wedding the real work starts. I can spend about 15 hours preparing images for albums and about 20-30 hours editing wedding images. There is never just an 8 hour day.
(2) I love my job so much that I would do it for free if I didn't have a mortgage or bills to pay. However due to the way my account is set up I come at a premium price. The upside is my clients get exceptional service, premium quality and an amazing time with me as their photographer.
(3) 9 out of 10 times you will see me with a stylist hat or a baseball cap.
Q. Name two thing that most people don't know about you?
A. (1) I pick grapes off the vine at the grocery store when shopping. I put grapes in the bag so I only pay for the true weight. I don't like paying for things I don't eat. Does that make me weird?
(2) I played golf in college when I was having a bad day. I could have given Tiger Woods a run for his money.
Q. What are some of the most random things you've done on wedding day that you weren't hired to do?
A. (1) I love being stylish and the groom knew that. He designated me as the one to tie all the bowties for his groomsmen.
(2) I ended up cutting the cake and serving at least 10 guests during the reception. Up to this this I do not know how or why the couple ended up giving me the knife.
(3) I had to sew a button on a groomsman's jacket.
(4) At a wedding the DJ was so bad that the bride was in near tears. I ran to my car to get my patch cable and told the DJ to connect to my phone and play until the party was done since I knew what the type of music my clients loved.