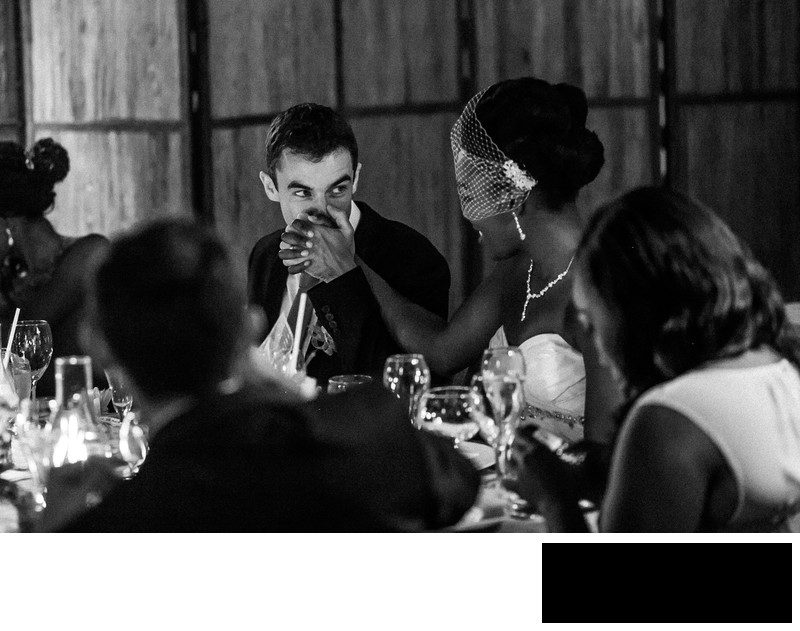 Wedding day can be stressful and that's the last thing you want to deal with. Here are some things to consider to help make the day go by a lot easier with my own funny personality.
1 -No need to have 200 people in your bridal party. Ask yourself who are the 4 closest people in your life that you can call at 3am to pick you up if you were in trouble? Have them in your bridal party. You don't need 15 flower girls and 10 ring security. Now if you're marrying the Prince of Dubai let me know so I make sure I'm flying first class (Prince can afford it)
2 - You will always look better in your dress than it hung up on a clear plastic hanger we photographers just love to photography so well (said with sarcasm). If you want your dress photographed, have a sturdy wooden hanger available. Other option is to have a dress form in your suite. That means the room can't be looking like a party house.
3 - Play music and be in the moment. No one with bad vibes should be allowed in your hotel suite or luxury air bnb.
4 - Bride doesn't have the be the last to get her hair and makeup done. Perhaps get it done before the last couple ladies.
5 -If you've booked a venue because you love the outside architecture or landscape and your wedding is in the Fall, consider doing a first look and get all the portraits done before the ceremony. If you said, "Ah hell naw!!!" I'll tell you why. Unless you're willing to have an early ceremony meaning 2pm, you will lose light and you won't be able to get those photos you want on the outside in the daytime. Yes skilled photographers like myself can shoot at night but night portraits as nice as they are will never have the same look as daytime.
6 - Delete your Pinterest app - DO NOT show photo ideas to your photographer. We'll look at it, say cool but won't copy another image. We'd rather have someone else copy your day than you copy someone else. Your day is about you not some random bride on the internet.
7 - Say no to a shot list unless its a list of people you want in the formal family photos after the ceremony.
8 - Be fully dressed at least 1.5 hours prior to ceremony so you and the bridal party can take as many photos as needed and get your makeup retouched. That means paying your makeup artist to hang out to get that sweaty upper lip taken care of.
9 - No cell phones during the ceremony. Make sure the minister addresses it or I'll have someone with a blowdart taking folks out if their phones, iPads or laptop is raised in the air. You should see Kirk Franklin's daughters wedding video. Some fool had a laptop in the air catching his own photos lololol
10 - If you don't book Teshorn Jackson or his Associate Photographer you will have bad sex for 10 years.